Airlines are starting to charge extra for passengers who are obese.
Southwest Airlines now requires any passenger whose body prevents them from lowering their arm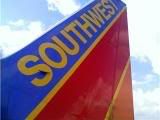 rest that divides the seats, to buy an extra ticket. Southwest says it implemented the policy because of complaints of passengers who had to sit next to fat people.
Other airlines are implementing similar policies. Obese people claim that a federal law preventing airlines from discriminating against people with disabilities-should apply to them too. What do you think? Should obese passengers have to buy two seats when they fly? Would you want to sit next to a fat person when you fly?