102 year old Margaret Dunning is not only driving, but she's doing it in her 1930 Packard roadster that she's owned for more than 62 years.
106 year old Irving Kahn is the oldest working investment banker on Wall Street. He still goes to work every day. He has a sister who is 109 and a younger brother who is 101.
77 year old Ernestine Shepard made the Guinness World Record book as the oldest female bodybuilder.
106 year old Nora Hardwick posed as "Miss November" for a charity calendar. She was almost nude except for a pink tulle scarf. Her top tips: Put others first. Drink whiskey.
102 year old Joe Binder has held the position of valet for 25 years at a Bronx, New York diner. He loves dancing with his 48 year old girlfriend and has no plans of retiring any time soon.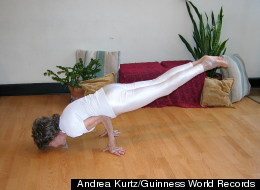 94 year old Tao Porchon-Lynch is the world's oldest yoga instructor. She still teaches 15 classes a week at the Westchester Institute of Yoga in New York.